WDMJ AM 1320 and WDMJ FM 95.7 from 1965-1968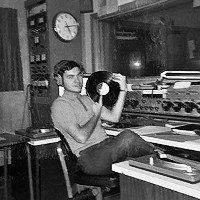 I worked at WDMJ in the 60s while in high school and college. I worked part-time until I graduated from high-school, then worked full-time for about a year while in college. One of my many jobs at the station included playing records at the Bishop Baraga Friday night dances. (I also worked at WNMR radio and TV on the NMU campus during this time.) I resigned and went into the service in late 1968.

The station was owned by Frank Russell, who also owned the local newspaper, The Daily Mining Journal. The station was located on the second floor of the newspaper building on Washington street in downtown Marquette. (See "Upper Peninsula Radio History" below.)

Here are some old photographs taken of me at WDMJ. On the left, I'm in the FM studio. On the right, I'm with Jim Amross and Paul Donovan in the AM studio.

Original 1968 WDMJ Letterhead
(Many pictures courtesy of Dale Leslie.)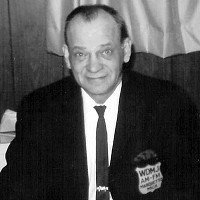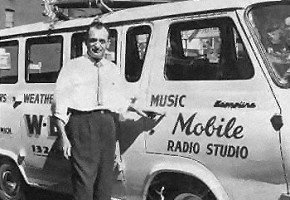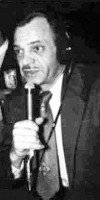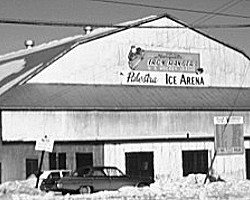 The Voice of WDMJ, Eldon Wallace - Yes, fist-a-cuffs and body-slams by the players at
the Palestra during a hockey game! During one fracas, the action continued into the
parking lot, so Eldon took his play-by-play microphone outside to follow the fight.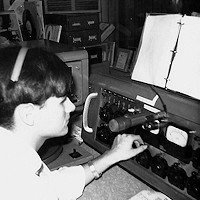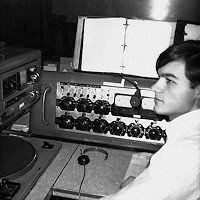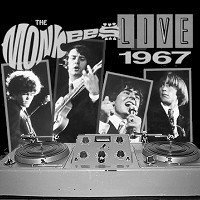 Joe Hutchens in the AM Studio - Photographs for the High School Newspaper - Bishop Baraga Dance Turntables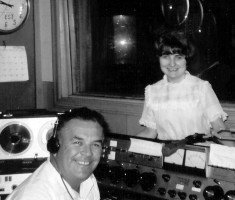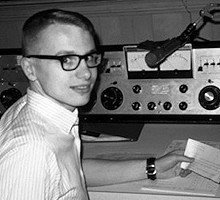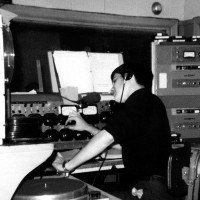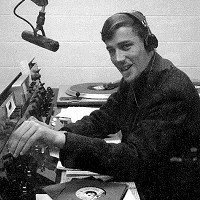 Mel Strughold and Nancy Emblom - Dale Leslie - Mike Aisner - Jim Amross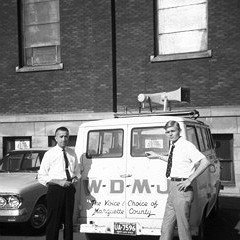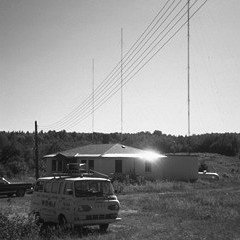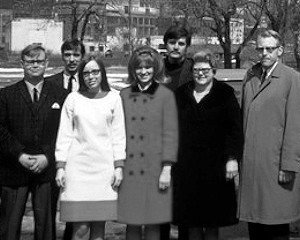 Paul Anick, Chief Engineer and Brian Yaroch, Announcer - The 3 Tower AM Transmitter Site
(Right photo: April, 1968 - Duluth, MN - NMU Speech Competition)
Far left, Steve Repola, WDMJ. Far right, NMU faculty members
Mrs. Laurin and Byron Renz. (Mr. deep, deep voice.)
Local Media Hits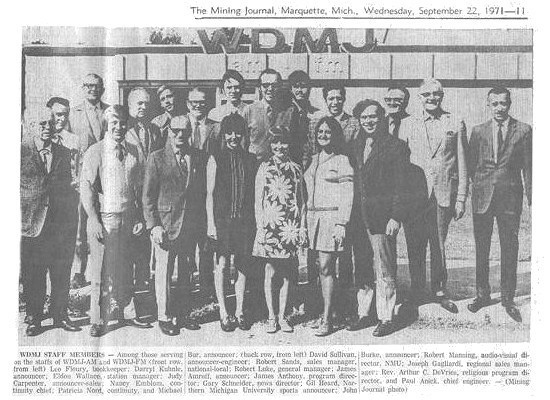 MARQUETTE, MI - The Mining Journal - September 22, 1971
Back row: David Sullivan - announcer/engineer, Robert Sands - national/local sales manager, Robert Luke - general manager, Jim Amross - announcer, Jim Anthony - program director, Gil Heard - NMU sports announcer, John Burke - announcer, Robert Manning - NMU audiovisual director, Joe Gagliardi - regional sales manager, Rev Arthur C DeVries - religious program director, Paul Anick - chief engineer

Front row: Leo Fleury - bookkeeper, Darryl Kahnke - announcer, Eldon Wallace - station manager, Judy Carpenter - announcer/sales, Nancy Emblom - traffic/continuity, Patricia Nord - continuity, Michael Bar - announcer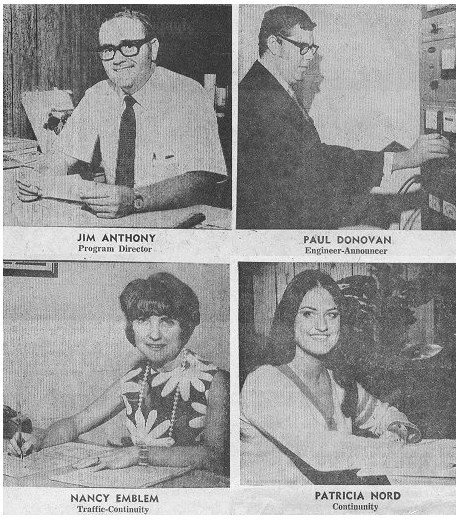 MARQUETTE, MI - The Mining Journal - September 22, 1971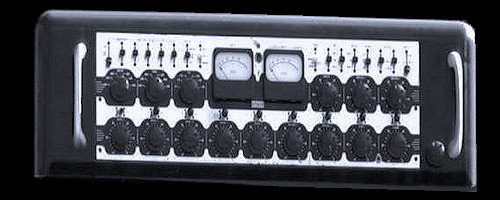 MARQUETTE, MI (WLUC TV6 - Upper Michigan's Source)
The Gates control board used at WDMJ from the late 1940s to 1980s. Jim Gleason, a former employee of the radio station, got the board back in the 90s to restore it, and in 2016 he decided to donate it to the Marquette History Center.
In Memory Of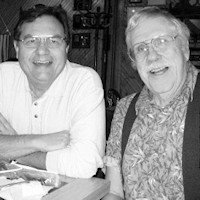 This is a photograph of the late Paul Donovan and me taken at the old Bonanza Steakhouse in Marquette in 2008. It's been a few years since we worked together in real radio.

Here is an air-check of Paul Donovan.
WDMJ AM - 1970 - Marquette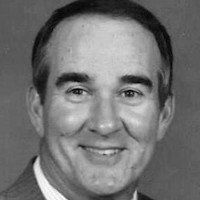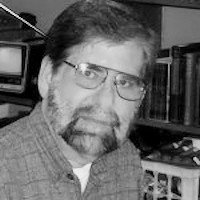 In memory of those who have moved on to that big radio station in the sky!
Paul Anick
Eldon Wallace (1912-1972)
Brian Yaroch (1946-1981)
Gary Bourgois (1947-2005)
Mel Strughold (1922-2006)
Jim Anthony (1938-2011)
Lynn Kovarik - Pat Kelly (1943-2013) Photo right
~WDMJ, WCAR, WKNR, WXYZ and WOW
Jim Amross (1945-2014)
Paul Donovan (1935-2016)
Leon Stalberger - Lee Steele (1939-2017) Photo far right
~WDMJ, WLUC-TV, WJMN-TV and WFRV-TV
Chris Lotto (1947-2019)
Nancy Emblom (1939-2019)
Upper Peninsula Radio History

WDMJ began broadcasting as WBEO in the summer of 1931 on 1310 kHz, and it was owned by Lake Superior Broadcast Co. However, a temporary authorization was given 9 years earlier, in 1922, to Northern State Normal School to operate a Marquette station using the call WBI, but it may have been on-the-air for just a couple days in March.

The first stations to actually begin broadcasting in the Upper Peninsula appear to be the following: KFLB owned by Signal Electric Mfg. Co. in Menominee (1923-1925), WRAK established by Julius Flath and operated from the basement of Economy Light Co. in Escanaba (1926-1932), WLBY owned by Aimone Electric in Iron Mountain (1926), and WHDF founded by A.L Burgan, Charles C. McLeod and Paul Tinetti, utilizing their ham radio equipment on the third floor of Herman Brothers Jewelers in Calumet (1928-1978).


As youngsters in the 60s, most of us listened to top-40 station WJPD in Ishpeming (now WIAN), but at night the station could not be heard in Marquette. We quickly tuned to WLS or WCFL in Chicago as soon as the sun went down. We grew up listening to many of the personalities on these two stations including Dick Biondi, Barney Pip, John Records Landecker and Larry Lujack.

WDMJ played top-40 for two or three hours each night in 1967 and 1968, and would broadcast live from the Bishop Baraga dance on Friday night. The remainder of WDMJ's broadcast day was devoted to adult easy listening.

On weekdays, WDMJ carried Don McNeill's Breakfast Club from ABC in Chicago. I can remember hosting "Hits for the Missis" from 11:30 to noon followed by thirty minutes of weather, news and sports. The weather was broadcast live from the weather bureau office on top of the federal building downtown on Washington Street. Eldon Wallace usually did state, local and national news. Lee Steele did sports.

Remember radio legend Paul Harvey? Every afternoon we would hear, "Hello Americans...standby for news!" In addition to, "And now, the rest of the story." I had the pleasure of hearing him speak at NMU and meeting him afterword. Truly a great broadcaster.

WDMJ would also broadcast local hockey, high school and college sports, and Detroit Tiger baseball. Yes, radio the way it was meant to be!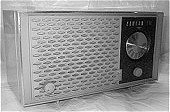 *WDMJ FM is no-longer licensed in Marquette. Here is FCC Data from the archive:

Construction permit for new FM Broadcast Station 7/17/1964. Granted 7/14/1965.
License to cover CP 11/30/1965. Granted 3/3/1966
I suspect this is when the FM station went on-the-air.
"FM only" Zenith radios were given to listeners
by the station as a promotion.
Modification of license to remotely control transmitter 3/19/1966. Granted 4/20/1966.
Voluntary assignment of license to Gospel Opportunities (WHWL) 10/6/1975. Granted 3/5/76.


I am interested in hearing from you if you can supply additional photographs and historical facts about WDMJ and its former staff. Please contact me at the AJ8MH email address on the bottom of this page, and I'll add to this site.
Notes and recordings (aircheck tapes) of my short lived broadcast career can be found here.
Joe Hutchens (AJ8MH)
Email address below.
Northern Star Broadcasting - Sovereign Communications and Other Ownership Changes
Frequency
Call Sign
Power
Format
92.3
94.1
99.5
1240
1320

WJPD-FM
WUPK
WNGE
WIAN
WDMJ

100/kw
4.4/kw
3.6/kw
1/kw
5/kw-D 135/w-N

Country "Big Country"
Classic Rock "The Bear"
Oldies "Oldies 99.5"
News/Talk/Sports Radio
News/Talk/Sports Radio

02/08/2010 - Sault Ste. Marie, Michigan based Sovereign Communications has reached an agreement with Northern Star Broadcasting to purchase their Upper Peninsula radio stations. The eleven station, multi-million dollar acquisition will give Sovereign a total of seven radio stations in the Sault Ste. Marie and Newberry area, five stations in Marquette and three in Iron Mountain.

02/08/2017 - Sovereign Communications continues to expand in the U.P. with the acquisition of WYKX-FM (104.7) and WDBC(AM) (680) in Escanaba. Sovereign will have a total of seventeen stations in the Upper Peninsula.

01/10/2019 - Aurora Media, LLC just announced that it has assumed management and operations of WDBC-AM and WYKX-FM in Escanaba.

10/07/2019 - Armada Media Partners, owners of Bay Cities Radio and Radio Results Network, announced that they will acquire eight radio stations from Sovereign Communications. These stations include 92.3 WJPD, 94.1 WUPK, 1320 AM WDMJ, 1240 AM WIAN, 99.5 WNGE in the Marquette area, and WIMK 93.1, WMIQ AM 1450, and 94.3 WZNL in the Iron Mountain area. The ownership change should come in early 2020.

12/30/2019 - On Monday, a fire destroyed the WDMJ(AM) radio tower in Marquette. According to Sovereign Communications, the fire was in the tuning unit shack at the tower base. The small shack was fully engulfed and heat from the fire compromised the base of the tower. The 260 foot tower collapsed. Sovereign expects to have a temporary antenna installed.

08/10/2020 - 1240, WIAN in Ishpeming has gone off the air permanently after a 73-year history. FCC records show WIAN signed on in 1947 as WJPD, and changed its callsign in 1992 to WIAN. WJPD-FM, 92.3 is still on-the-air. In recent years, WIAN simulcast a News/Talk/Sports format with 1320 WDMJ in Marquette.

08/17/2020 - Still no official word on Sovereign Communications sale of several stations. An FCC "Application for Consent to Assignment of Broadcast Station Construction Permit or License" appears that the new ownership will be split. WNGE-FM, Negaunee, and WUPK-FM, Marquette, will go to Marquette Radio, LLC, a Wisconsin limited liability company. The others will go to AMC PARTNERS ESCANABA, LLC, also a Wisconsin limited liability company. There is another FCC application titled "Extension of Consummation" for WDMJ(AM).

08/21/2020 - Format changes have taken place as follows: 94.1 Soft Hits "The Breeze" WUPK-FM (was The Bear), 92.3 "Fresh Country" WJPD-FM (was Big Country), and 99.5 New Rock "K-Rock" WNGE-FM (was Oldies 99.5). WIAN-AM is off-air permanently after a 73-year history mostly as WJPD.

12/14/2020 - According to FCC filings, the license of WDMJ(AM) expired 10/01/2020. However, there are a couple "Extensions of Consummation' applications on file with the FCC with the latest one dated 10/26/2020. Sovereign Communications has requested an extension of the period for consummation of the transaction, which I assume is the sale of the station. It appears Sovereign Communications needs to obtain the release of certain liens on the assets being sold, and is trying to do so by the end of 2020.

After several attempts to receive WDMJ(AM), it's apparent that the station has ceased transmitting, but I do not think the license has been surrendered, yet. It could be that since the license has expired, the station can not legally operate even while the extension for consummation is in effect.

January 28, 2021 - I noticed that WDMJ(AM) is back on-the-air. An Application for EXTENSION OF STA (Special Temporary Authority) was accepted for filing in January 6, 2021 with the FCC. Application for EXTENSION OF CONSUMMATION for Assignment of License and/or Permit was accepted on January 7, 2021 by the FCC. The station isn't dead, yet.

February 17, 2023 - Well, it appears that WDMJ(AM) has finally ditched their wire antenna and installed a vertical antenna (tower) to replace the one that was lost in a fire back in December of 2019. It's taken a LONG time, but it looks like they are back in business.

WDMJ(AM) Technical Information:
5 KW Day
135 Watts Night
Frequency - 1320 khz (227.11549696969698 Wavelength in Meters)
Tower Height In Electrical Degrees - 126 degrees
Tower Height In Meters - 79.4904239393 (.35 wavelength)
Tower Height In Feet - 261
Tower Height Above Ground in Feet - 268