Notes and Pictures of WDMJ - WJPD Radio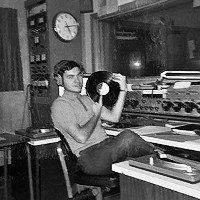 I worked at WDMJ in the 60's while in high school and college. The station was owned by Frank Russell, who also owned the local newspaper, The Daily Mining Journal. The station was located on the second floor of the newspaper building on Washington street in downtown Marquette.

Here are a couple old photographs taken in the late 60's of "yours truly" at WDMJ-AM (left with Jim Amross and Paul Donovan) and WDMJ-FM (right) in Marquette.

To the left, is a picture of me at WDMJ-WIAN taken in 2009. Not much change, right? OK, maybe a little. After retirement from AT&T Mobility, I worked part-time for Northern Star Broadcasting* as a board operator/announcer for 1 1/2 years. Yes, radio has changed a lot since the sixties!

(WIAN is the old WJPD-AM that was located in Ishpeming, MI.)
*Northern Star Broadcasting - Marquette County Stations
Frequency
Call Sign
Power
Format
92.3
94.1
99.5
1240
1320

WJPD-FM
WUPK
WNGE
WIAN
WDMJ

100/kw
4.4/kw
3.6/kw
1/kw
5/kw-D 135/w-N

Country "Big Country"
Classic Rock "The Bear"
Oldies "Oldies 99.5"
News/Talk/Sports Radio
News/Talk/Sports Radio

02/08/2010 - Sault Ste. Marie, Michigan based Sovereign Communications has reached an agreement with Northern Star Broadcasting to purchase their Upper Peninsula radio stations. The eleven station, multi-million dollar acquisition will give Sovereign a total of seven radio stations in the Sault Ste. Marie and Newberry area, five stations in Marquette and three in Iron Mountain.

02/08/2017 - Sovereign Communications continues to expand in the U.P. with the acquisition of WYKX-FM (104.7) and WDBC-AM (680) in Escanaba. Sovereign will have a total of seventeen stations in the Upper Peninsula.
Below, a picture of Paul Donovan and me taken in 2008. Now, take a look at the first picture on this site in the upper left corner. Yup, it's been a few years since we worked together in real radio.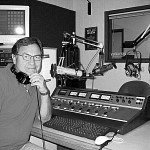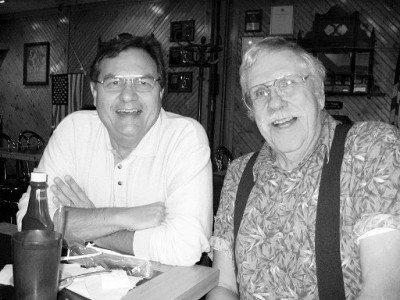 To the right is a picture of me at WJPD-FM in 2009.

Below, are some additional pictures from the old days. If you were around in the early years, you'll recognize Eldon Wallace, the voice of WDMJ.

I would be interested in hearing from you if you can supply additional pictures and comments about WDMJ from the 60's and 70's. Please contact me and I'll add to this site. (Many pictures courtesy of Dale Lislie.)

Thanks,
Joe Hutchens
Joe Hutchens playing the Monkeys
Eldon Wallace in the late 60's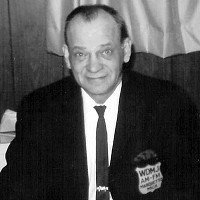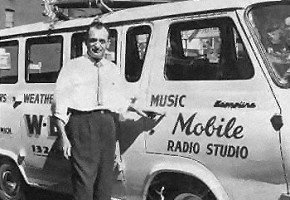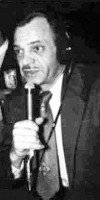 Mel Strughold and Nancy Emblem - Mike Aisner - Jim Amross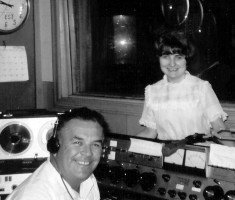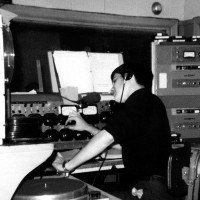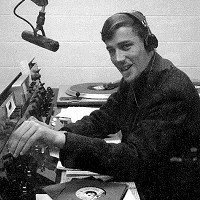 Paul Anick, Chief Engineer - Brian Yaroch, Announcer - The 3 tower AM transmitter site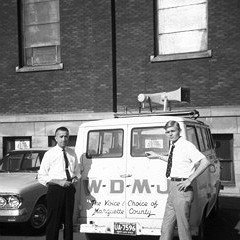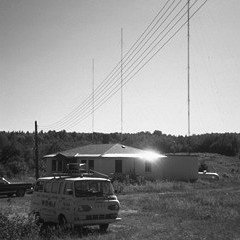 From the Mining Journal