My Short-lived Broadcast Career ( WDMJ - AFTN - WROA - KOKE - KKMJ - WJPD )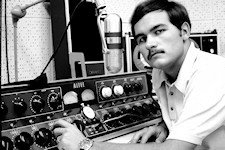 I have always had an interest in broadcasting since my days at our basement radio station in north Marquette with Greg Hill. Guess I was lucky to get a job at WDMJ when I was just 15 years old. I worked at WDMJ in the 60s while in high school and college. I worked part-time until I graduated from high-school, then worked full-time for about one year while in college. I also worked at WNMR radio and TV on the Northern Michigan University campus during this time.

I joined the Air Force in late 1968 and was trained as an Air Traffic Control Radar Technician. During my enlistment while stationed on The Mississippi Gulf Coast, I worked part-time for WROA in Gulfport playing Adult Standards / Middle of the Road music. That was in 1969 and early 1970. In late 1970 through 71, I was part-time at the American Forces Thailand Network in Nakhon Phanom, "The City of Hills" in Northeast Thailand.

When I retired from the Air Force in late 1972, WROA AM and FM offered me a full-time job, so I returned to the Mississippi Gulf Coast. WROA AM was in the process of increasing power to 5KW after adding an 8 tower directional antenna system.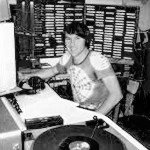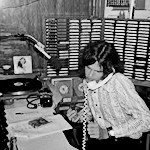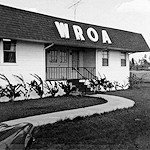 The format also changed to Top-40 music with Bob Marshall as program director and morning personality. The staff also included Rob Aubert, Dennis Wayne, Ray Zoller, Gary Thieman and me. It was the last full-time job I ever had in broadcasting!

I've added some MP3 recordings to this site from my short-lived broadcast career, and the first is from WROA in Gulfport. (Sorry for the AM radio quality, but that's the way it was.)

I have also included a recording of Gary Thieman doing WROA's Lucky Number contest. (I can be heard in the studio chatting with Gary.) I produced the contest promo that's at the end of the recording. I was 24 years old.

Next, are recordings from the 80s when I was in Austin, TX. I was working at the Motorola Service Center and decided to try and land a job with Bob Cole at KOKE FM. To my surprise, he called me in for an interview and gave me a chance to do some part-time work. More like part-time fun! I really liked this format...

It seemed like every time I walked in the door, the station changed its image...and call-sign. When I left the station it was KKMJ - Majic 95 FM, and so far it's lasted for over twenty years. I didn't much like the music mix when we first went on-air, but it sounds like it has changed over the years. The reason for leaving the station was because my new real job with McCaw Communications required more attention.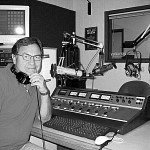 After retirement from AT&T Mobility in 2008, I moved back home and worked part-time for a year and a half at Northern Star Broadcasting as a board operator/announcer.

The stations included 92.3 WJPD, 94.1 WUPK, 99.5 WNGE, 1240 WIAN and 1320 WDMJ.

Of course, I was paid near minimum wage. I even vacuumed and swept the floors, and it seemed forever before they would let me start voice-tracking on WJPD FM. It was something I had never done before!

The two pictures were taken in 2009. The first is of me at WDMJ/WIAN and the second is me in the WJPD FM studio.
Voice-tracking and Air-checks

Voice-tracking is when a disc jockey prerecords his on-air show. It's then combined with songs, commercials, and other elements by computer to produce a product that sounds like a live air-shift. Voice-tracking is very, very common on many radio stations. It's a way for station owners to economically get, use and maximize good on-air talent. In fact, some of the announcers you hear on-air locally are nowhere near Marquette.

What are air-checks? Every time you pulled a shift, you always placed a cassette in the recorder, and every time you turned on your microphone, the tape would start recording. After your on-air shift, you would drop the cassette in the program director's inbox. Now, during your weekly or monthly meeting with the boss, you would have something to talk about. Either, "You're doing great." Or, "You'd better find another job!"

The Austin air-checks sound rather repetitive, but you have to remember that we played a lot of music and really didn't talk very much.
Air-check tapes. Just click on the recording you would like to hear.
1) The Rock of America WROA Gulfport
2) WROA Lucky Number Contest with Gary Thieman and Joe
3) KOKE FM Austin
4) Austin's Lite FM
5) Austin's Lite FM Cut 2
6) KKMJ Majic 95 FM Austin
7) Big Country WJPD FM Marquette
Joe Hutchens (AJ8MH)
On-air name: Joe McKay
Email address below.