1927 Radiola 17 by RCA

This project started with a trip to Weston just northwest of Kansas City, MO. I planned on doing a little antique shopping, but I didn't plan on picking up an old beat-up speaker. However, the price was right, so I bought it not knowing what it was designed to mate with, and dragged it on the flight back to Austin as carry-on baggage.

After doing a little research, I discovered the speaker was an RCA-100A designed to work with a Radiola 17 or 18.

It took me a month or so to get around to refurbishing the speaker, and once done, I started to look for a radio it was developed for. I told a number of people to be on the lookout for one, and to my surprise, a 1927 Radiola 17 was presented to me as a Christmas gift from my work group in 2003.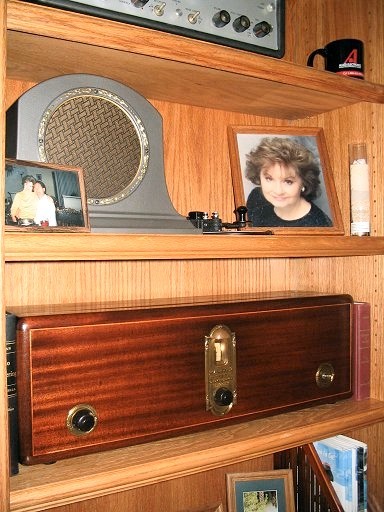 Resuscitation Details...

Wood Case:
1) Cleaned, stripped, sanded and refinished.

Chassis:
1) Removed 77 years of rust, dust and dirt.

Power Supply:
1) Found off/on and voltage select switches inop. DeOxit brought them back to life.
2) Replaced all electrolytic caps.
3) Added fuse holder and fuse.
4) Found one section of multi-tap wirewound power resistor open. Bypassed section w/stand-alone resistor.

RF/Audio Deck:
1) Found 2 wirewound grid resistors open. Replaced.
2) Found wirewound volume control (actually antenna gain adjust) open in multiple places. Replaced.
3) Replaced all .5 uf bypass caps with new .47 uf.
4) Managed to break secondary RF coil connection while cleaning. Repaired.
5) Lubricated tuning cap.
6) Replaced knobs with exact replicas.
7) Replaced tuning gradients with replica, and added it over existing brass one.
8) Left old parts in chassis.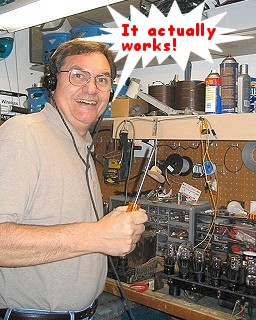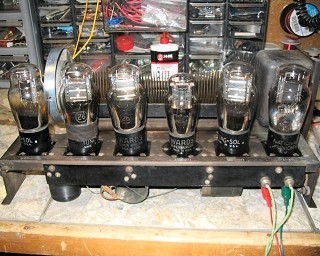 The radio passed the smoke test, and the first station heard blasting in on 4 feet of wire was 1200/WOAI in San Antonio about 70 miles away.

Sensitivity on the low end of the band is weak, but much, much better with a 44 foot outside antenna. The manual says it needs 25 feet of antenna wire, anyway.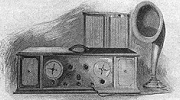 No tubes were replaced, and hum doesn't appear to be an issue, although I've heard some talk about hum problems with other Radiola 17's.


Search the WEB for The RadiolaGuy to find helpful information on restoring your Radiola.