Micro Satellites AO16 and LO19 (Non-Operational)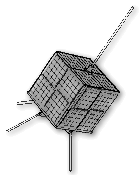 PACSAT and LUSAT are two MicroSatellites that were launched along with other satellites from Kourou, French Guiana, South America. An Ariane vehicle of the European Space Agency carried the satellites aloft on February 22, 1990 to a low altitude, sun-synchronous, near polar orbit. Each satellite takes a little more than an hour and a half to circle the earth at an altitude of nearly 500 miles. Midday, you'll find the satellites passing north-to-south over the continental United States, and in late evening, the satellites will pass overhead traveling in the opposite direction.

The satellites are amazingly small. They're cubed shaped, and approximately nine (9) inches on edge. In fact, the 145 MHz. receive antenna is twice the length of the main body of the spacecraft. This single element 1/4 wave antenna is located on the top (+Z surface) of the structure, and the four (4) shorter 437 MHz. transmit antennas are located on the bottom (-Z surface). All the antennas are made of flexible metal much like the curved tape measures used by carpenters.

Attitude stabilization and control is maintained by four (4) small permanent magnets aligned top-to-bottom. With this configuration, the satellite rotates end-over-end twice per orbit as it tries to align with the earth's magnetic field. To reduce temperature variations on internal hardware, the spacecraft slowly spins. This is accomplished by the 145 MHz. antenna acting as a radiometer. One side of the antenna is painted white and the other black. Solar radiation pressure then causes the craft to spin.

Each spacecraft is powered by eight (8) NiCd batteries. The batteries are charged by 440 small solar cells mounted on all surfaces of the structure. The 22 volt battery bus is converted to 10, 8.5 and 5 volts DC. The CPU is an NEC V40. 2K of ROM is used for restart and approximately 10.5M of static RAM is used for storage and the operating system.

PACSAT and LUSAT have been designed to provide AX.25 packet communications in the form of an orbiting mailbox where messages are up-linked, stored and then forwarded to other Amateur Radio Operators anywhere on the planet. Each satellite has the capability of receiving on four different frequencies simultaneously in the 145 MHz. band. Ground stations transmit on one of these frequencies using Manchester encoded FM at +/- 3 kHz. deviation. All ground stations listen to one down link frequency near 437 MHz. using a single-sideband receiver and a special PSK modem. Communications is full duplex.

Special software is required to handle the protocols used with this form of satellite communications. The software must be capable of using Broadcast and FTL0 protocols. PG, PB and Wisp are a few of the programs available. This software can also be used to download telemetry files generated every minute or so. These broadcasts give a snapshot of how the spacecraft is functioning. An example of a typical telemetry download is shown below. Note references to battery voltages and array charge currents. By looking at the charge current number, you can actually tell which side of the spacecraft is facing the sun.

Telemetry - 57 Sample Peg Counts
Data
Data

0 Rx D DISC: 0.0322
1 Rx D S meter: 147
2 Rx C DISC: -1.21124
3 Rx C S meter:122
4 Rx B DISC: -0.06156
5 Rx B S meter: 158
6 Rx A DISC: 2.4638
7 Rx A S meter: 116
8 Rx E/F DISC: 3.48286
9 Rx E/F S meter: 156
10 +5 Volt Bus: 4.9715
11 +5V Rx Current: 44.25
12 +2.5V VREF: 2.5056
13 +8.5V BUS: 8.6802
14 IR Detector: 65
15 LO Monitor I: 1.702
16 +10V Bus: 11.15
17 GASFET Bias I: 3.354
18 Ground REF: 0
19 +Z Array V: 21.483
20 +X (RX) Temp: 9.0748
21 Rx Temp: -3.0272
22 Bat 1 V: 1.35073
23 Bat 2 V: 1.397876
24 Bat 3 V: 1.3827
25 Bat 4 V: 1.319436
26 Bat 5 V: 1.369296
27 Bat 6 V: 1.48822
28 Bat 7 V: 1.398493
29 Bat 8 V: 1.38185

30 Array V: 20.4128
31 +5V Bus: 6.750977
32 +8.5V Bus: 9.331578
33 +10V Bus: 11.03501
34 BCR Set Point: 137.016
35 BCR Load Cur: 320.46
36 +8.5V Bus Cur: 25.924
37 +5V Bus Cur: 210.08
38 -X Array Cur: 106.69
39 +X Array Cur: -3.38
40 -Y Array Cur: -11.28
41 +Y Array Cur: 0.03
42 -Z Array Cur: -2.41
43 +Z Array Cur: 221.28
44 Ext Power Cur: -17.5
45 BCR Input Cur: 371.05
46 BCR Output Cur: -12.6133
47 Bat 1 Temp: 1.8136
48 Bat 2 Temp: 1.2085
49 Baseplt Temp: 3.0238
50 PSK TX RF Out: -0.0290131
51 RC PSK TX Out: 0.098498
52 RC PSK BP Temp: 4.234
53 RC PSK HPA Tmp: 3.0238
54 +Y Array Temp: -2.4221
55 PSK TX HPA Tmp: 2.4187
56 +Z Array Temp: 20.5717
57 S band HPA Tmp: 214
58 S band TX Out: -0.08365

This has been a very brief description of two micro-satellites used by Amateur Radio Operators around the world. For more information about the Amateur Satellite Service, visit AMSAT.